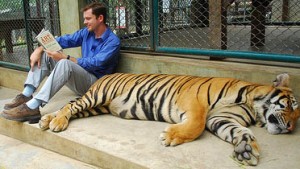 I have been a big fan of Chris Guillebeau for quite some time now – in fact, I have a link to his Unconventional Guides in the right sidebar of every page of my site.
He's a blogger, business builder, entrepreneur and all-around mover-and-shaker, but what tends to stand out for me and other people I know is that Chris is on a quest to visit every damn country in the world, and he's almost met his goal. It's a ridiculous, audacious, impossible dream that he has wrestled into reality.
Chris obviously knows a thing or two about traveling. He's got a stupid amount of air miles, knows the three digit airport code to every two-bit dirt runway in the world and when plans go astray, has bullshitted his way into and around countries from Africa to Eastern Europe to Asia.
So when Chris talks travel, I listen. Given that I have some extended travel coming up in March (oh, did I let that slip?), the following advice on maintaing vs. creating hits what I've been thinking about dead on. Great advice from a guy that's been there. Thought I'd share as well. Check out Unconventional Guides if you want to sign up for his email list.
Working from Anywhere – An Observation

Speaking of working from the road, I've recently noticed a key point in my own work. This year I visited 26 new countries — many of them fairly difficult ones to get to and work from, such as Somalia, Mauritania, Palau, and others. (The next post will be a full travel roundup of the year.)

Wherever I go, I'm always pounding away, making sure my commitments are kept reasonably up to date, answering lots of emails, and performing various administrative tasks.

What I've realized in more than a decade of doing this in one fashion or another is that I can maintain things from anywhere, but I wouldn't want to develop and launch things from anywhere.

The distinction is important: for long-term creative purposes, I need a certain amount of stability and reliable infrastructure. The biggest challenge is not that I want to take it easy; it's just that my creative energy is greatly reduced while on the road. I still work at least 4-5 hours a day wherever I am, but much of this work relates strictly to existing commitments.

I have a lot less "creative space" on the road to build detailed projects, so I've learned to be more clear on scheduling extended periods of writing and building things when I'm not always jetting off.

LESSON: Travel the world, but set aside time to "make stuff."