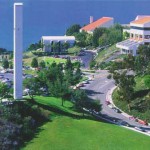 Last week, I guest lectured at Pepperdine University's Center for Communications and Business on the topic of "Social ROI" – how to measure the significant amount of time, resources and money that companies spend on social media presence and initiatives.
There were sixteen undergrads, fourteen of whom were female students. With a total annual cost that might fall between $30,000 and $40,000, Pepperdine's students clearly come from a more affluent background than many other college students, or young adults in general.
I wanted to capture some observations based a series of informal questions with which I opened the lecture. Most of the following are estimates based on a show of hands.
93% of students (15 out of 16) had iPhones. The other student had an Android.
19% of students (3 out of 16) had iPads. One had a Nook, one had a Kindle, none had any other devices, including Microsoft Surface. When I mentioned the latter, I don't believe students had any idea what I was talking about.
100% of students accessed social media primarily from a mobile device, secondarily from a laptop.
When students introduced themselves, they were asked to name the social networks they used frequently. Students could name more than one network.

Instagram – 81%
Facebook – 75%
LinkedIn – 25%
YouTube – 12%
Twitter – 12%
Tumblr – 12%
Flickr – 6%
Google+ – 6%

About 25% of students got their news socially. If they were interested in more information, they would go to a mainstream news source – CNN and BBC were mentioned.
Other news sites listed as primary sources included NewsMax and The Drudge Report.
Over 50% of students were involved in a non-profit or had started their own.
Of those 50%, almost all had some social media responsibilities, but minimal ideas on how to execute or measure campaigns.
I'm glad I took the time to engage the students in a series of questions. I was surprised by a couple things, most notably how Instagram has overtaken Facebook as a platform of choice, and how Twitter was a non-starter for the vast majority of students.
I would guess that at a less affluent school, smartphones would still have a very high if not ubiquitous presence, but Android would have higher market share.
Do we have any teachers out there that can share from their perspective?