Why search engine optimization (SEO)? Say you have a business in Ventura County, and you are looking for more visibility in the search engines. You want to be found for your products and services, not just your business name. You may need to be found by your local customers ("mexican food ventura") or you may have an international clientele ("expat corporate relocation services"). And you want your traffic to be relevant – those who find you through search would find your products and services to be exactly what they are looking for. Something like this: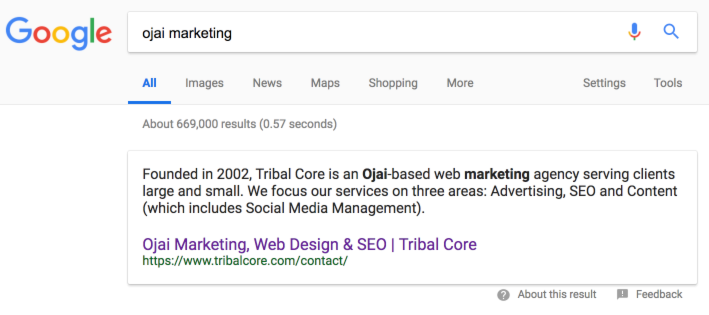 Tribal Core provides SEO services to businesses across Ventura County, including Ojai, Camarillo, Oxnard and the City of Ventura (in fact, the City of Ventura is among the clients we've worked with over the years). If you need SEO help, so that you can be found on the web by a relevant, motivated group of prospects, get in touch.
Looking for SEO Help in Ventura?
We work with businesses of all sizes. If you are in Ventura County, looking for a local web marketing company that serves Ventura, Ojai, Camarillo and Oxnard, contact us today!
Check out Tyler's interview on CAPS-TV, Ventura public access.
doing business in Ventura County
Ventura industries offer a wide array of business products, services and opportunities. From agricultural business to hi-tech, Ventura County is home to a variety of nationally known businesses in a number of industries including biotech, military and agriculture. Ventura's policies and economic development organizations encourage entrepreneurialism.
One of the most livable communities in America, Ventura is a classic Southern California beach town of just over 100,000 residents. Home to one of nine original California missions, Ventura has uncrowded beaches and bikeways, a commercial harbor that accesses the Channel Islands National Park, and a thriving, culturally rich downtown district. Ventura County is home to Ventura College and Cal State University Channel Islands.
Be sure to check out the new coworking space, Connect Ventura, a hub of creative, professional growing businesses and knowledge workers in Ventura County.
City of Ventura
Ventura Chamber of Commerce
Ventura County Economic Development Association (VCEDA)
Economic Development Collaborative-Ventura County (EDC-VC)
Connect Ventura – coworking
If you want more relevant organic traffic, get in touch now.