Scribe SEO is a new WordPress plugin that works primarily with the Thesis theme framework or the All-In-One SEO plugin. It is designed to allow a website owner, copywriter or web designer to create search engine optimized web pages and blog posts using a set of SEO (search engine optimization) tools. These tools provide feedback on the different page elements, and suggest changes that can be made to better optimize the page.
Basically, you sign up for an account (which can be a free trial) based on the number of evaluations the engine will process in a month. You could run it on a single page five times, each time making some changes, and that would count as five evaluations. Within the WordPress page or post edit page, you can run the tool and review the recommendations, which pop up in a series of tabs.
I'll run through the tool set, talk about the target audience and share some reservations. Read on!
SEO Score
The SEO Score tab is helpful for a website owner or website designer willing to learn the basics of SEO. It serves as a good reminder that content is king. In the image below, I am doing SEO on one of my blog posts using Scribe. My Title and Description are a little long, and I could add two more hyperlinks – fixing these would probably give me 100%.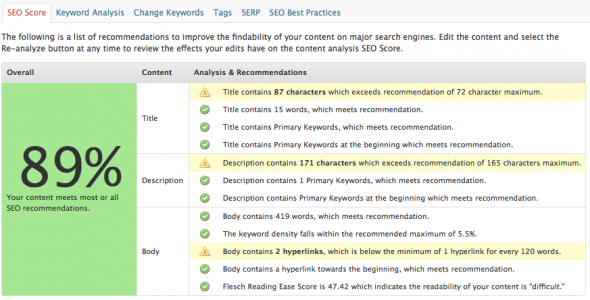 In another scenario, I analyzed a client's page that had only 54 words in the body and that a keyword phrase exceeding the maximum density (its appearing too much relative to the other words on the page). Working together, these two recommendations reinforce the idea that the page needs a good amount of content and it has to read well for humans, not just search engine spiders. I also like how the Recommendations reinforce the necessity to use the page's primary keywords in the Title, Description and Body – the way that I like to explain this is that SEO is the process of putting a page's content in better context. In order to do that, there needs to be consistency between all of the mostly hidden page elements an SEO person looks at and the text in the body that a visitor reads.
Contextual Analysis and Keyword Analysis
On a client site, Scribe successfully extracted the primary keyword phrase and a number of other relevant keyword phrases from the combined Title, Description and Body elements. On my blog post example, Scribe did not identify "nameservers" as a target Keyword. Why not? I am using it in the Title, Description, Filename and Body, and have good Frequency and Density. There is no explanation why it wouldn't be picked up, and, importantly, there is no way for me to identify what I feel is the target Keyword, so that Scribe can help me optimize for it. I could see this being very frustrating for a website owner or web designer who is looking to Scribe for the broad SEO brushstrokes. [NOTE: I switched the order of Nameservers and Advanced DNS on the blog post for Scribe testing purposes – in either primary or secondary position, Scribe fails to pickup "Nameservers" as a target Keyword]
The Keyword Analysis section does a nice job combining the hard elements and the soft elements of analysis. The hard elements include definitive metrics: the frequency with which a keyword phrase appears in the site and the density, or how frequently the keyword phrase is used in relation to the rest of the copy on the page. The soft elements appear to be Scribe's algorithms, where the Scribe user sees Rank (how a keyword phrase is emphasized, relative to the other identified keyword phrases), and Prominence (where the keyword phrases are used on the page, i.e. in the first paragraph or leading off the title tag). How Rank and Prominence are determined is rather opaque from an SEO professional's standpoint, but for a site owner, these are quite handy.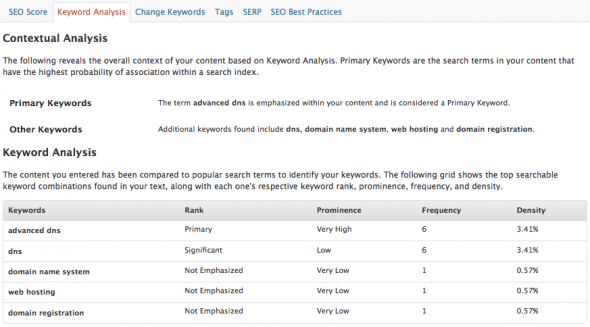 Change Keywords
While the advice is useful based on what Scribe has identified as target Keywords, this section has limited value if you can't identify what your target Keyword is. This is one more thing that is causing me to lean towards Scribe as a nice tool and not the category killer it hopes to be.

Tags
Why is the #1 "semantically relevant term" not also a Keyword (let alone the Primary Keyword)? I don't know, and the opacity of the plugin doesn't give me any insight on this. This is a nice group of tags that Scribe has provided, but it appears there is some disconnect between how this is derived, and how the rest of the tool works.

SERP
This is a nicely done section showing how your page will most likely appear in a search engine results page. No complaints – Scribe appears to have it nicely dialed in, complete with link and URL colors that emulate Google.


SEO Best Practices
This section is tailored too tightly to Scribe functionality. There is no mention of some common SEO best practices, including a keyword rich filename, using header/subheader tags for your page title and sections of the page, and using the alt tag in images. These little changes, whether made to site templates or in the HTML code of the individual page, can certainly help search engine results. Perhaps if these other best practices were mentioned, it would highlight the shortcomings of what is otherwise a pretty darn good plugin. Maybe this section should be renamed Scribe Best Practices.
Recommendations
For SEO Professionals – Scribe works as a second set of eyes, and may pick up some details that are commonly missed, such as the target number of characters in a field. I'm not convinced the Scribe business model and tools can support SEO pros effectively, where installing Scribe on client sites still is tied into a single Key, and clients have access to the plugin. Clients have access to the stats for the Key, so they can see how many evaluations are left across any number of sites on which the plugin is installed. Further, clients will pester SEO pros as to why a page has not received a 100% score, when the Scribe SEO tools are not the ONLY determiner of what constitutes good on-page SEO.
For Website Designers – Scribe is great for designers that create a few sites a month, and want some incremental monthly income by charging a reduced rate for Scribe to clients ($10/month?) and amortizing the cost across those client sites. Designers generally know just enough about SEO to be dangerous, and I think this tool can help refine their SEO efforts.
For Website Owners – Scribe is a good fit for website owners only if you produce a good amount of content, warranting a monthly fee. I'd expect using about 4-5 evaluations per page, so for website owners creating 6-8 new pages/posts a month, I think Starter Scribe (30 evaluations a month) makes sense.
Reservations
The tool set doesn't match the target audience. If a key selling point is that the API Key can be installed on "Unlimited Websites," then there needs to be mechanisms that provide feedback and control access. For instance, I may get the Publisher Scribe ($47 for 120 evaluations a month), and hedge a little by giving 8 clients up to 20 evaluations at $10 a month. But there is no control panel so that I can see multiple sites at once, there is no throttle, so that I can set ceilings for individual sites, and each site can see how many total evaluations there are in the account and how many are being used.
I have serious reservations about how Keywords are identified, why my target Keyword didn't show up despite adhering to best practices, and why I can't tell Scribe what that Keyword is. This would be a critical improvement for future versions. I'd also like to see the plugin include additional SEO best practices, including filename, alt tags and header/subheader tags.
Click here if you would like to give Scribe a try.
Pricing plan is as follows. Scribe suggests about 3 evaluations a page, but I think users may find 4-5 evaluations a bit more realistic, depending on how close to a 100% Score they are aiming for.
Advanced: 300 evaluations a month (around 100 pages or posts) for $97
Publisher: 120 evaluations a month (around 40 pages or posts) for $47
Starter: 30 evaluations a month (around 10 pages or posts) for $27