We help businesses with their online presence every day.  The process of Local SEO is a critically important part of maintaining visibility when the business has a local service area.  What I want to explore in this post is what happens when there is bad data about a business on the web, and how that bad data compounds and makes the situation even worse.
My wife and I are currently doing some caretaking for family in South Laguna Beach.  We've been really busy, and thus we're grabbing quick meals, including a lot of takeout.   We might search for "mexican food near me" or searches related to "fast healthy meals" or even "restaurants" to see what comes up.
Fortunately for us as patrons, we have plenty of dining options.  For local restaurants, all those dining options mean competition, so it's imperative that a business does what they can to have as much visibility as possible to best put butts in seats or get calls for takeout.
How Bad Data Created a Competitor
Let's take a real-world look at Adolfo's, a local Mexican restaurant.  There's some bad data out there regarding their Name and Location and it's unfortunately getting worse.  First of all, take a look at a snapshot of a Google Map.  We can see here the actual location (green arrow) and a bogus location for "Adolfs" (red arrow).
Unfortunately for the real business (Adolfo's), there's this other "business" (Adolfs) that has an established web presence.   Adolfs is showing a location two blocks away in a residential area.  So imagine you're driving around looking for the restaurant – it's incredibly confusing if you end up among the Laguna bungalows with no restaurant in sight.  In fact, it's quite likely you'd give up, drive downtown and never darken the door of the real Adolfo's.
Google looks for signals about a business
Google is always looking for various "signals" about a business.  This certainly includes a website, a Google Business Profile, a Facebook Page and any other number of business listings (or Citations).
There are essentially both passive and active signals that Google can consult.  Active signals are generally controlled by the business – think updating hours on the website or providing a link to patrons to leave a great review.  Passive signals are often the result of automation, such as third-party scrapers and data aggregators.
What do we mean by having an established web presence?
Establishing a web presence means controlling as much of the web footprint as possible.  Let's look at it another way: when Google finds active signals, like an updated website and Google Business Profile, it is far more likely to use data from those sources in search results, particularly the Knowledge Panel in the right column of those search results pages (SERPs).
When Google is forced to rely on passive signals, it's far more likely that info will either be inaccurate or not displayed at all.  Thus, one of the key outcomes of Local SEO efforts is to maintain data consistency across active signals, such that search visibility remains high and accurate.
How Bad Data Compounds in Local Search
This is where the web footprint starts getting really messy.  We already know there is bad data out there that essentially establishes Adolfs has a real and competing business.  That's a problem in and of itself.  Alarmingly, the problem only gets worse when not addressed.
Let's take a look at Adolfs' listing on a bot-powered site called Restaurantji.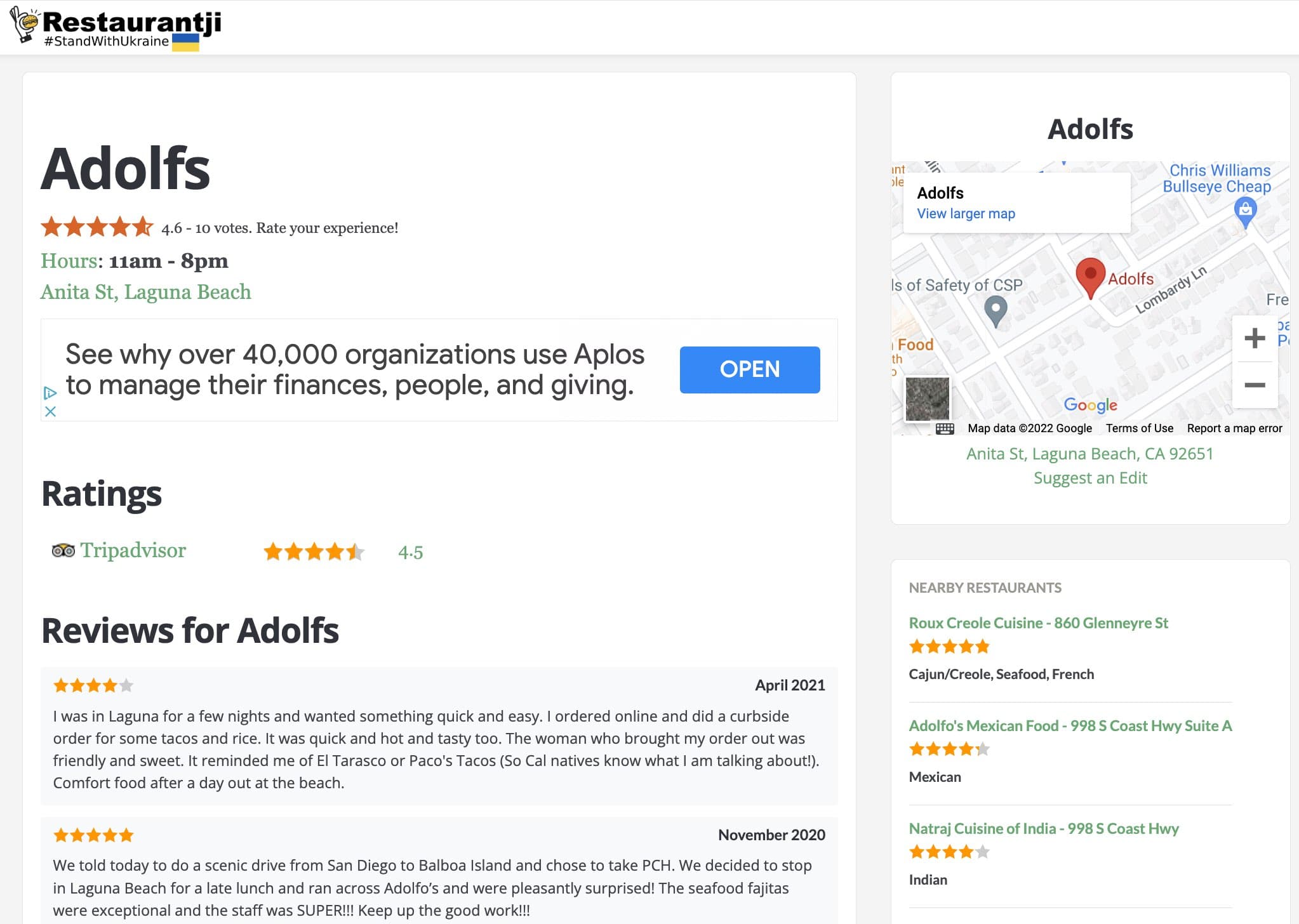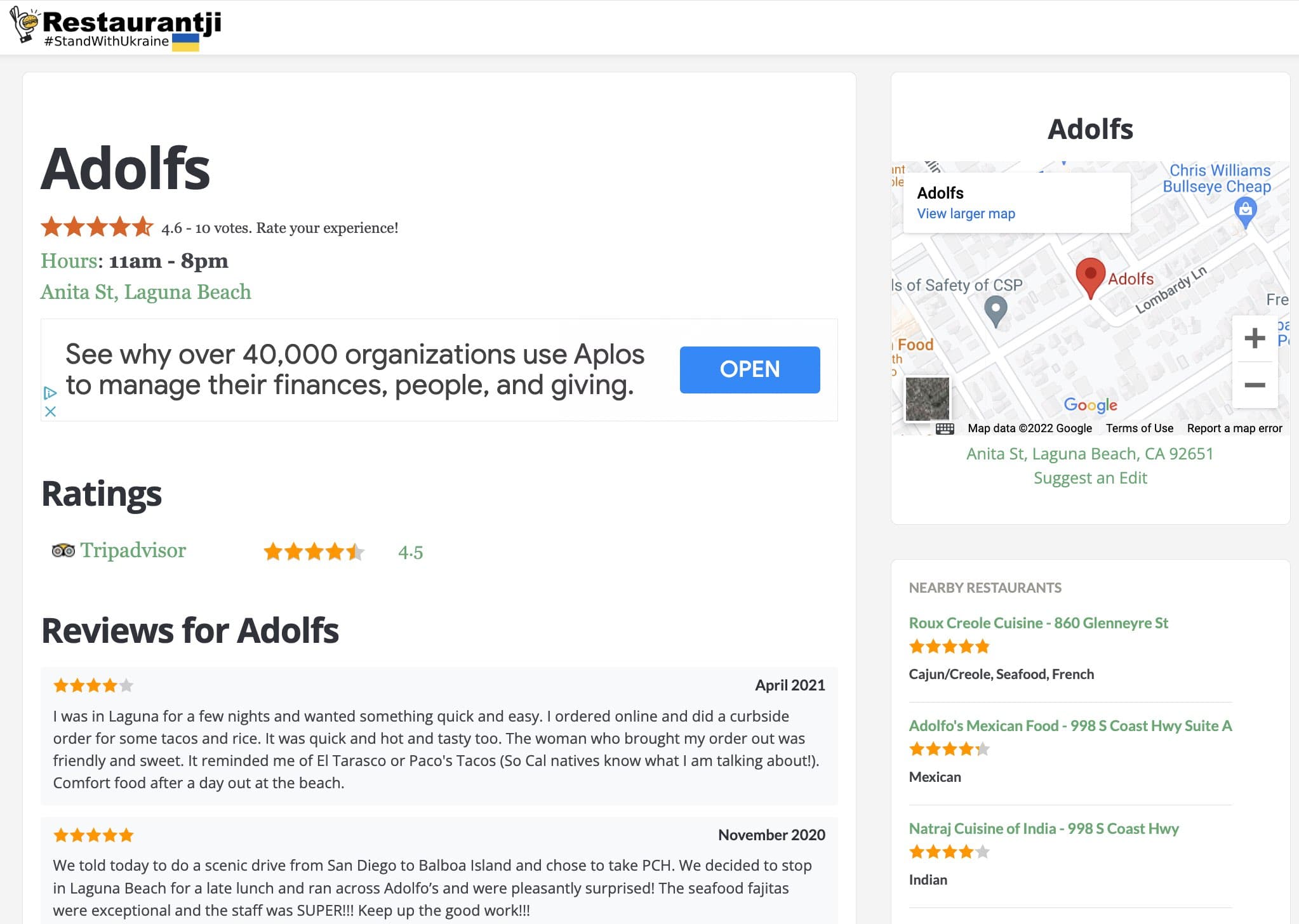 Here we see our bogus listing, a map pin for a restaurant that doesn't exist at all, nor in that location, and reviews for Adolfo's scraped from TripAdvisor.  Also note the "Nearby Restaurants" link to the real-deal Adolfo's.  So now, we have a directory site that is strengthening it's listing, more likely to rank in search, sending a stronger passive signal to Google, reinforcing bad data, making it more likely that Adolfs will rank, sending potential restaurant patrons off on a wild goose chase.
What's the Local SEO Fix for Bad Data?
Fixing this issue only gets harder the longer it is allowed to propagate unchecked.   Over time, Adolfs will become increasingly "real" in the eyes of Google, as users continue to leave reviews, star ratings and comments on various websites for the wrong restaurant.
The real restaurant, Adolfo's, needs to actively manage their web presence.  Clearly, they don't have the in-house expertise to do this, so hiring a cost-effective agency to manage Local SEO is probably their best bet.  They need to:
ensure all data is accurate on their website
sign up or claim their Google Business Profile
ensure all data is accurate on their Google Business Profile
ensure all data is accurate on other key platforms such as Facebook
use a location management platform to distribute accurate data to business listings (aka Citations)
use that location management platform to identify and delete duplicates (which would include Adolfs)
contact sites with bad data to reconcile their listings and delete the Adolfs versions
regularly update data, post offers and events, and continue to create active signals
solicit reviews from happy customers, with direct links to owner-claimed listings such as Google, Facebook, Yelp and TripAdvisor
Local SEO for a Local Service Area
While we've used a restaurant as an unfortunate example of how bad data can undermine a business' web footprint, these lessons apply to any business with a local service area.  I can't tell you how many times I've seen bad data for doctors, chiropractors, accountants, mortgage brokers, tow truck operators and businesses located inside other businesses.
Let's be really clear here: Local SEO Management is now a basic monthly cost of doing business for any entity that has a local service area.  The pain is too high for those that aren't proactive about it.  It's not expensive (we offer this service for 200 bucks per month per location), and it is essential.  Here's the good news: when managed properly, having a clean web footprint gets additional visibility and is likely to lead to more phone calls, lead forms, patrons and a positive ROI.
Whether you are fixing what's broken or looking to get out ahead of problems, get in touch.  Let's have a chat and if we're a good fit, we'll go to work building your business for the long haul.