I've done a couple posts on WebPosition recently, and one of the comments discussed a site ranking software package called Advanced Web Ranking. I'm giving the 30-day trial a spin, and in full disclosure, the company offers an Enterprise license for a review, which does not include the maintenance contract, for which I'd have to pay separately.
Installation and Setup
Advanced Web Ranking installed quite smoothly on a Mac. The 78MB file expands to about 120MB (including the server app and another program called Advanced Link Manager). The 30-day trial authorization was completed without a hitch.
Once you fire up the program, you are prompted to start a Tutorial, which includes a demo project containing the "historical data for some of the best news websites on four of the most important search engines."
Documentation
Documentation, in the form of tutorials, feature overview, menu details, user interface and more, is exhaustive. It is well-formatted, well-written English and includes screenshots throughout. In short, it demonstrates that AWR is a very deep program filled with functionality, and the depth and quality of documentation gives confidence that everything will run as it should.
Key Features
There are a ridiculous number of features in Advanced Web Ranking, so I'll cherry-pick a few that I think will be quite useful as I use this program more and more.
Triggers – these create customized filters and special reports. For instance, you can create a Trigger that will generate a report whenever a specific keyword goes up or down 5 places or more in a specific search engine. For sites that play close to the edge in SEO where there is a danger of being de-indexed, or for brand-new, or newly-optimized sites where there is a lot of movement in rankings, this could be a very useful seo software feature.
Keyword Research Tool – this keyword research tool allows users to tie into Google Keyword Tool and others, taking results and plugging them (or "extracting") into the searched web ranking keywords.
Event Logger – this sure looks handy for those managing multiple projects and multiple clients. In an easy-to-use interface, you can see when projects have run, when they are scheduled, what emails have been sent, error notification and more. The list includes:
Scheduled Updates
Multiple Scheduled Updates
Sending Emails
FTP Uploads
Generating Reports
Application Errors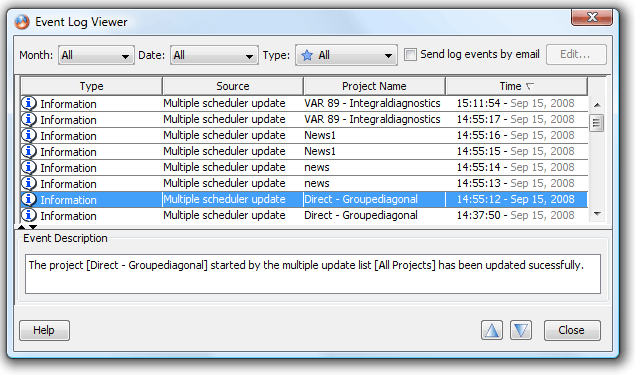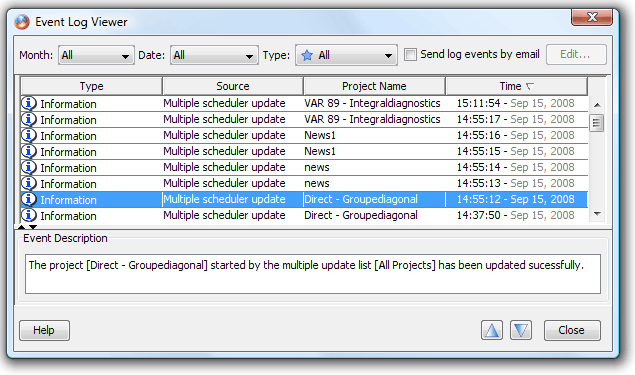 Local Search Engines Manager – this allows you to specify a localization. So if you are in Topeka, doing local search engine optimization for an insurance company in Billings, you can specify a Billings localization that will produce results that a local searcher would see.
Proxy Support – I don't love the idea of pinging Google for search engine results, where I'd much rather see an online version that does this without any threat of blacklisting. That said, there is proxy support, so I will look into using this, along with any throttle features I find. I would note that the link provided to get a key to the Google AJAX API is broken.
I recommend going through the Global Settings / Preferences, and setting up Performance (including Performance Settings / Browser Emulation and Search Engine API's) first, so as to throttle back inquiries and stay under reasonable search thresholds. AWR's position is that their Search Friendly settings are good enough, but I choose to be a little more conservative than that.
Reporting
Customized Headers and Footers – reports can be customized with a block of HTML code, or a stylesheet language called XSL.
Sending Reports – AWR can be configured to automatically generate reports and send by email. Included is a basic address book, and the ability to add text to the body of the email that goes out. This is designed to work seamlessly with Scheduled Reports, so that for instance, you can create a client report, schedule it for a daily run, and then automatically email the client.
Custom Filters – this allows you to create your own filter, combining existing, or default, filters and user created conditions that might include the current position, previous position, best position, the page, page rank, and other data points that may be affected by a change.
Report Page Setup – note all reports are set up by default as A4 (used in Europe). If you're in the US, you'll have to go into preferences and set this to LETTER (8 1/2 x 11).
Summary
This appears to be robust, useful software. I've been running some reports the last day or so, and I can see that getting things to look like I want them to will take a bit of time and wrangling, but its all doable. I'll update this post with anything I especially love or hate, but in the meantime, I'm pretty excited about Advanced Web Ranking, and how it can help me serve my clients.
---
Advanced Link Manager
Advanced Link Manager is another link manager software application from the same company. It does link building and link popularity, for website owners and SEO professionals. It has the following features, which I'll check out, and either update in this post or write a new one:
Analyze Domain Quality – Analyze the quality of one or multiple domains of your potential link partners.
Google Maps Webpages Importer – Analyze the web pages displayed in Google Maps for a specific local business result.
Website Crawler – Get insights from specific or multiple pages of a website by crawling it's pages.
Email reports – Tired of always having to switch the application to send email for potential link partners?.
Webpage Analyzer – Improve onpage optimization by analyzing pages from your website and your competitors websites.
Scheduled Updates – Get the work done even while you're away from your computer.
Search Engine Friendly – Human emulation technology that makes search engine requests indistinguishable from a web browser.
Reciprocal Linking – Keep track of your link exchange campaigns by using multiple way link exchange tracking.
Import referrers – Avoid the time consuming task of searching on search engines, for links that are not yet in their results.
Printable reports