UPDATED MARCH 29, 2019
We've got a great web marketing solution for you. Learn how we can serve your business with a cost-effective internet marketing plan!
Affordable web marketing near me is a rather tongue-in-cheek title, yet instructive on how the search engines have evolved to embrace the search habits and device preferences of millions of people. Read on to learn how local search affects virtually every business, starting with the ubiquity of "near me" searches.
What is a Near Me Search?
A Near Me Search is a search engine query where the user appends "near me" rather than using a zip code or location. The user assumes that their search will be relevant to their location. Appending "near me" to a query is not just about finding a specific place - it is also about a specific period of time based on user location.
Everyone searches "near me"
In 2019, we can see that the number of "near me" searches has skyrocketed since 2015. If I'm looking for local information like things to do or a destination like thai restaurant or a service like web marketing, I now expect Google and its distant search engine competitors to understand where I am and what I'm looking for simply by appending "near me" to my search, particularly on a mobile device or via a voice search with Siri or Alexa.
So when I title this post Affordable Web Marketing Near Me, my expectation is that in our primary area of service, which includes Ventura County and Santa Barbara County (and now Sonoma County), this page and other pages on this site we've optimized will show up in search results for this search and similar ones, like web marketing in santa barbara, internet marketing nearby and seo ventura.
Check out the following Google Trends to see how "near me" has exploded in popularity the last three years. Note: if you're on a mobile phone, this Google Trends chart may format better in landscape mode.
And a "near me" update
Update: This post launched in March 2018 and has been live for over a year. We remain #1 or #2 in multiple Google searches for "affordable web marketing near me" beyond the immediate vicinity of our primary service coverage. Viewed from Sonoma County, north of San Francisco, Tribal Core appears first in this search after the Local Pack results (which are in fact geographically relevant, as they should be).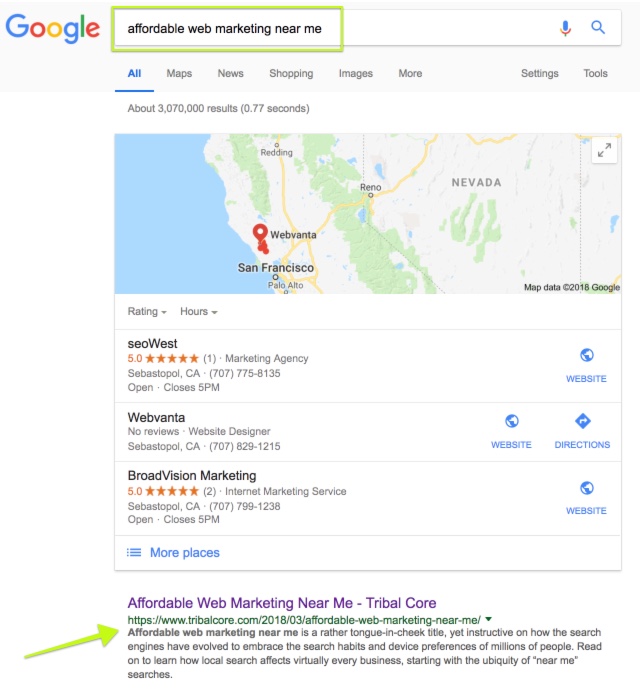 Two caveats to this are:
1) Google's search results can have quite a bit of flux, particularly for new content. New content can rank well initially, perhaps in part due to freshness, and then tail off as the algorithm smooths out.
2) Google might be weighting results towards Tribal Core because I've viewed tribalcore.com in the past. However, I tried this in a clean browser with no cookies and did get the same result, and also had a couple friends test from their location with the same result.
(UPDATE 3/29/19 - in a clean browser, this page appears as #2 in search results above the Local Pack of results)
Now, it remains to be seen if, in fact, there is traffic to be had for this phrase, or if I'm more likely to tap into search volume were I to better rank for the broader phrases "web marketing near me" and "affordable web marketing".
With some takeaways in hand, let's move on to how Local SEO plays into competing in local search.
This is where Local SEO comes in
Local SEO is the process of optimizing and normalizing your business listings across the web, building reviews from your best customers and clients and making sure your Google My Business listing is up to snuff.
Why is Local SEO important? Because you want not just your website, but all of these online business listings (aka Citations), to provide consistent, high-quality information about your business to search engines and end users alike.
When Google sees that you are a well-established business serving local customers, with good reviews and consistent data, including NAP (name / address / phone), guess what? You start appearing in "near me" searches. Look at how we rank for a search on marketing near me in Ojai, CA. With over 30,000 people in Ojai Valley searching "near me" for any number of products and services, holding the #1 spot is valuable real estate for those businesses offering those products and services.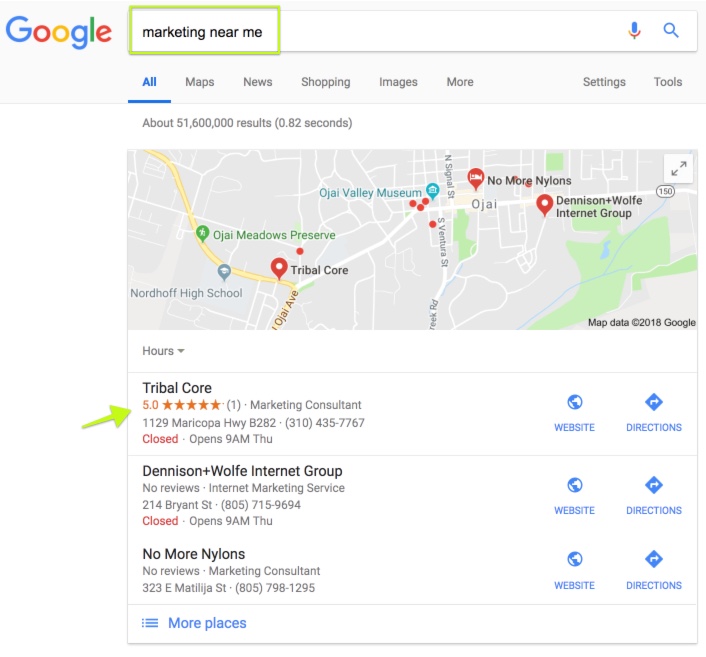 Powerful brands thrive in local search
Let's look at a practical application of local search (and how the notion of "local" is a fluid concept). You're on a long road trip, fading fast. You need caffeine. What's the most likely keyword phrase you'll search for? coffee near me? Not even close - you're more than twice as likely to search for starbucks near me.

You might be loyal to the brand. Or you might be looking for a consistent cappuccino. Or a clean bathroom. Or maybe a drive-thru lane. Or you know that gas station coffee is an abomination. Whatever the reason, you're much more likely to look for a local Starbucks than simply looking for coffee.
It's pretty unlikely your brand is as strong as the Starbucks brand. Which means that you'll need a bit more effort to compete in search results for whomever and wherever your audience is. Local SEO and a robust content strategy will help you compete for this internet traffic, even at modest budgets.
What is affordable web marketing ?
Affordable web marketing is a suite of marketing services including digital advertising, SEO and content strategy that are provided within a reasonable marketing budget and can return a positive ROI to the client.
---
Since 2002, we've been fortunate to work with some really fantastic organizations, such as the United Nations Environment Programme, the County of Ventura and the University of Montana. Add in a wide spectrum of organic and natural food brands, electronics manufacturers and travel companies, and our services have naturally gravitated to those businesses with larger budgets.
However, there is a strong demand from prospects and partners alike for an entry-level web marketing service that any small business can afford.
We've listened! For companies that are just getting their feet wet or otherwise have the most modest of budgets, we are proud to offer an affordable web marketing service for less than $17 a day.
Introducing Red Fox, our entry-level marketing plan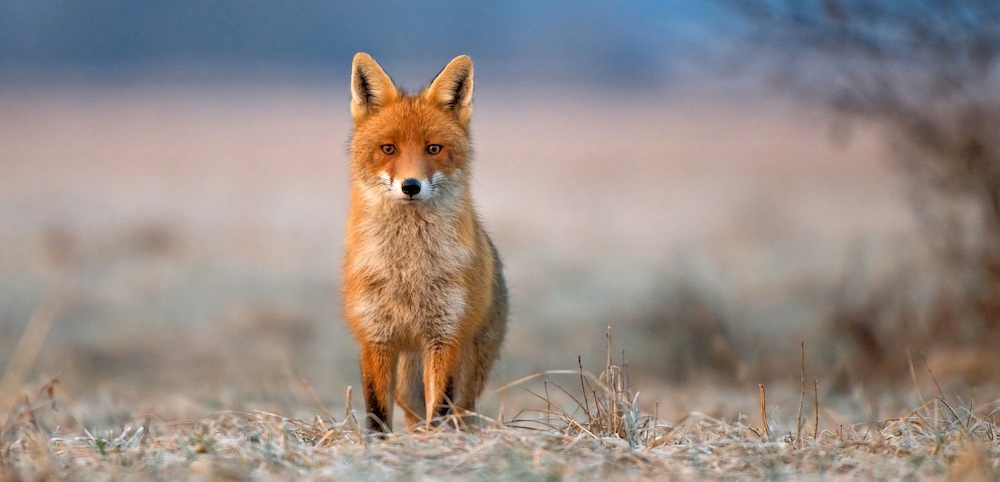 We've distilled our work into a core set of services that build a strong foundation for your web presence. Red Fox improves search engine results and does the leg work for more extensive content and advertising when you're ready for it.
SEO and Site Optimization
Our Optimization work centers on Local SEO, helping create the visibility your business needs to reach a local audience. We augment this with our New Post SEO service, integrating into your workflow to optimize your blog posts before they are published. Finally, we provide monthly audits, highlighting the most important and easiest-to-fix issues with your website. When you're ready, our bigger marketing plans offer full-site and ecommerce SEO.
Content Strategy and Deployment
Creating great Content for your website is one of the best things you can do for long-term success on the web. At the Red Fox level, we start with awesome keyword research which includes competitor analysis, and follow up monthly with a Content Strategy document. We also offer a Topic Research service, providing an exhaustive report that can guide the content creation process for long-form articles and posts. You'll need to write the content yourself at this service level, but we'll procure and deploy content for you on our bigger plans.
Digital Advertising
The keyword research we do for you breaks down hundreds of relevant keyword phrases into the Campaign and Ad Group structure found in Google Ads (formerly AdWords). We also help you implement Conversion Tracking, so you know where your leads and customers are coming from. The result is that you have good data at your fingertips, allowing you to make smart decisions with your finite resources. At the Red Fox level, we get you ready for digital Advertising down the road. When you're ready to spend $50-$100 a day in advertising, we'll move you to a bigger plan and take care of everything.
Your success is our success
Providing an affordable web marketing plan that delivers value and results to clients that have entrusted us with their online marketing needs is what drives us every day of the week. Get in touch today to learn more about what we do and how your business can benefit.