Bookmark Speedtest on your browser and download the mobile app. You'll need it everywhere!
I've spent over 400 nights in Airbnb properties all around the world. My wife and I are what you might call unofficial
Superguests
. I'm writing this blog post from an Airbnb in Prague (there's the router at the top of this post). I've talked to many friends who work while they travel, and there is definitely a consensus: when you stay at an Airbnb, you have no freaking idea how the internet is going to be. And that can be incredibly challenging if not terrifying.
Routers are old and cut out, requiring frequent reboots. Connection speed can be so poor, that any web page is at risk of timing out. Need to upload a video to a client on a half-meg connection? Good luck with that. And it's not like you're in a position to call an ISP and troubleshoot in Thai or Italian or Czech.


When you view an Airbnb listing, you'll see that it does or doesn't have Wifi. That's it. Does or doesn't. There is no sense of quality, stability or speed. Reviews (which are searchable) very rarely mention it.
Even Airbnb's "For work trips" don't have any information beyond the Wifi "toggle." You think this groovy Dream Studio in Athens below (which is a "Work" listing) has good Wifi? You're just going to have to go with your gut. I can assure you that any attempt to get a host to run a speed test is largely a lesson in futility and they are going to think you're a pain in their butt.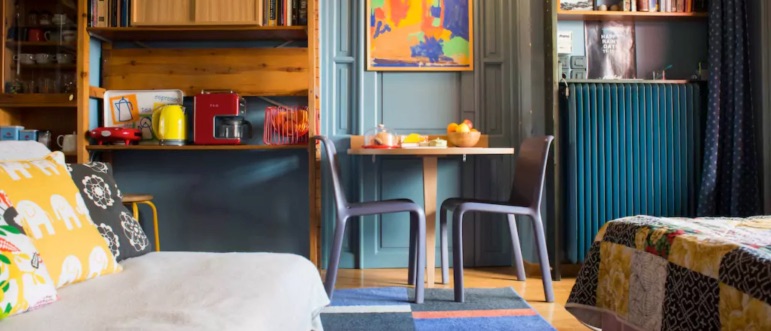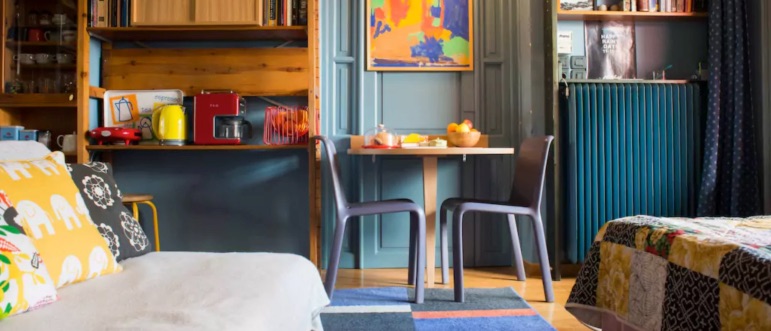 Look, if you're staying a couple nights in an Airbnb, it's probably not that big of a deal and this is a tempest in a teapot. But if you are staying a week or a month, there really isn't anything more important than Wifi. So what can Airbnb do about it?
How Airbnb Can Verify Wifi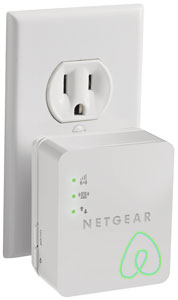 Back in 2014, I proposed a Verified Wifi hardware solution. The idea was that Airbnb could partner with a company like Netgear to send hosts a small box that plugs into the wall and connects to the host's wifi network. This box would periodically run a speed test and send the results to Airbnb. After a week of testing, the property would be assigned a speed rating and reliability number, which is then displayed on the listing. The data is then used to build an overall internet speed profile for any neighborhood or city.
Four years later, I think this is a much simpler software solution.
As a reference point, Airbnb is rolling out post-stay surveys. These have gotten increasingly detailed over the past few months. Here's an example inquiring about linens, pillows, soap, etc.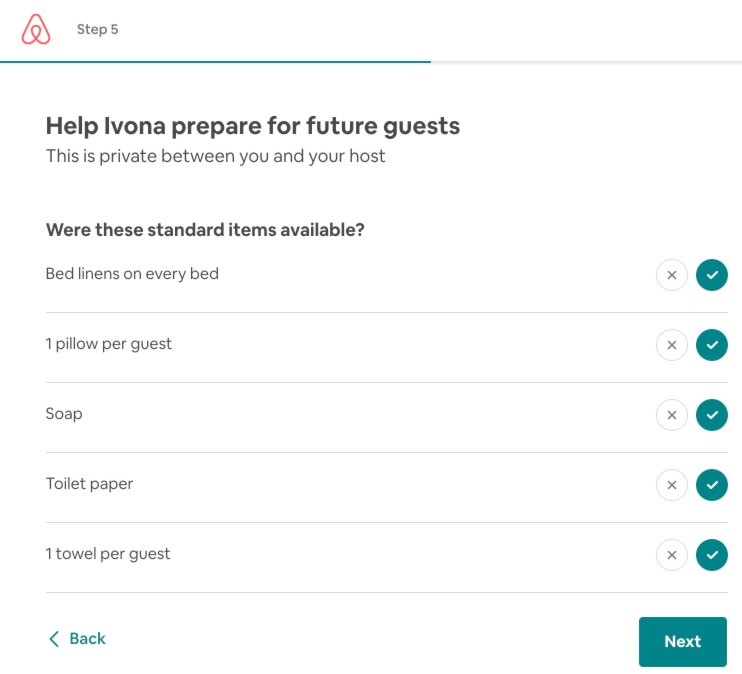 The next step in the survey returns to the Wifi "toggle" but hey, at least they asked, right? What we want to address here is the misconception that it is sufficient to simply ask if a host does or doesn't have Wifi.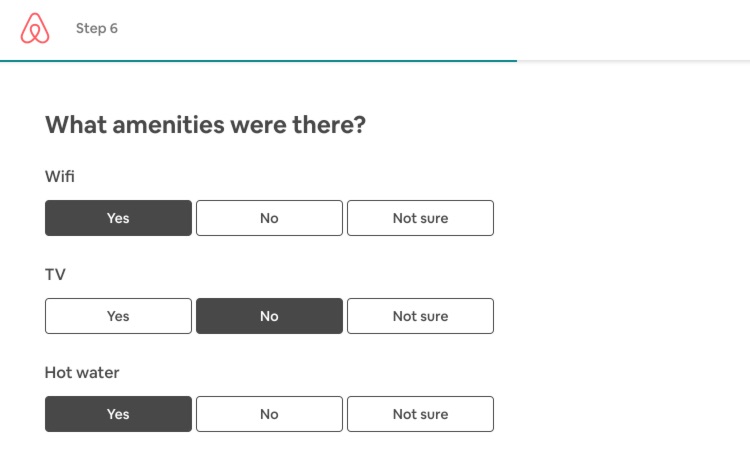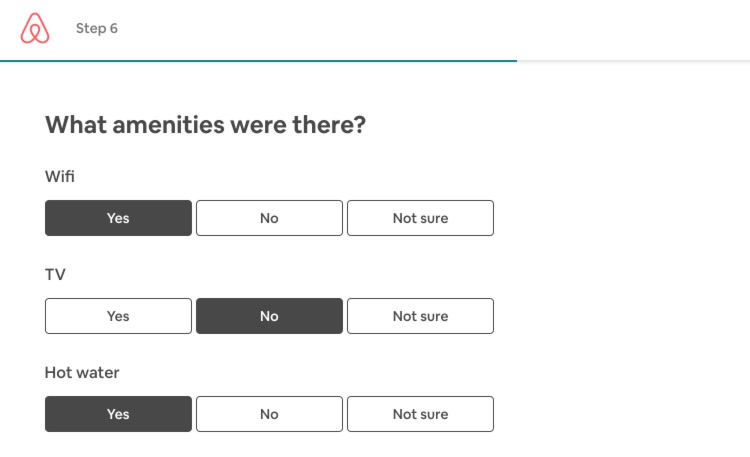 First of all, in order to verify Wifi, Airbnb needs to inquire with Guests while they are at their stay. This is critically important, as the Guest can provide hard data that they wouldn't have access to otherwise. Airbnb might want to limit it to stays of a certain duration, perhaps 3, 5 or 7 nights or more.
Secondly, Airbnb may want to help Users (knowing that a User is sometimes a Host, sometimes a Guest) build a profile spotlighting certain things that are most important to them. This could work for any number of amenities, not just Wifi, and may play in well to Airbnb's increasing focus on Experiences outside of the actual Stay.
The Speedtest Manual Option
Regardless of the method that Airbnb uses, it has to be mobile-friendly and integrated into the Airbnb app. The most rudimentary option would be to direct users to the Speedtest app to run a test, and simply input the results into a form. At a minimum, this would include Download and Upload speed, and perhaps the additionally-available metrics: Ping, Jitter and Loss.
The Speedtest Screenshot Option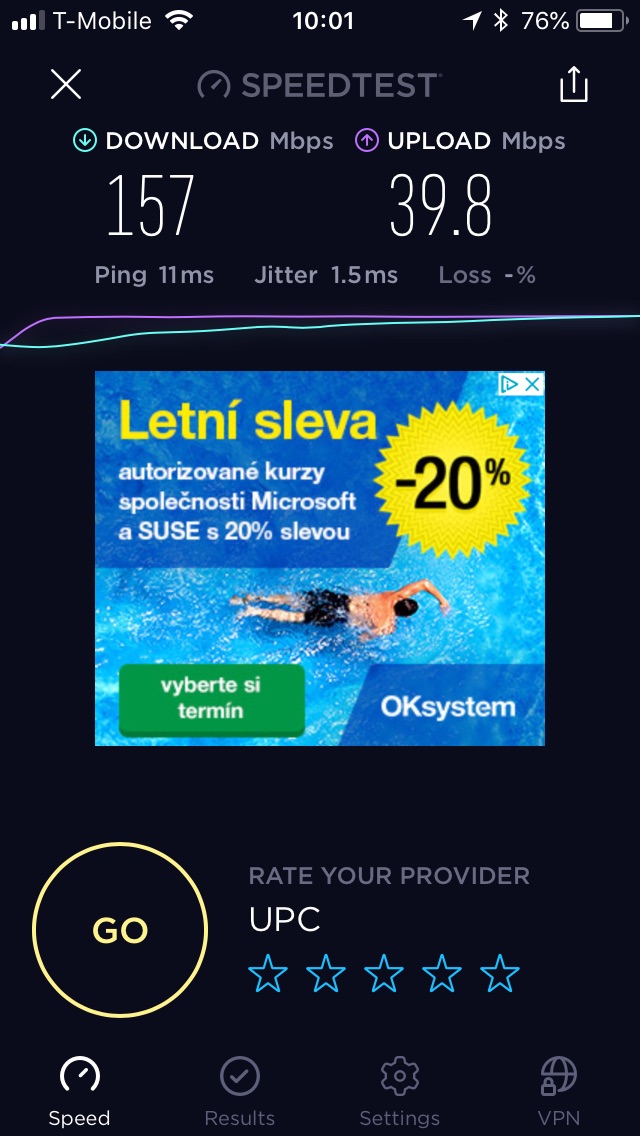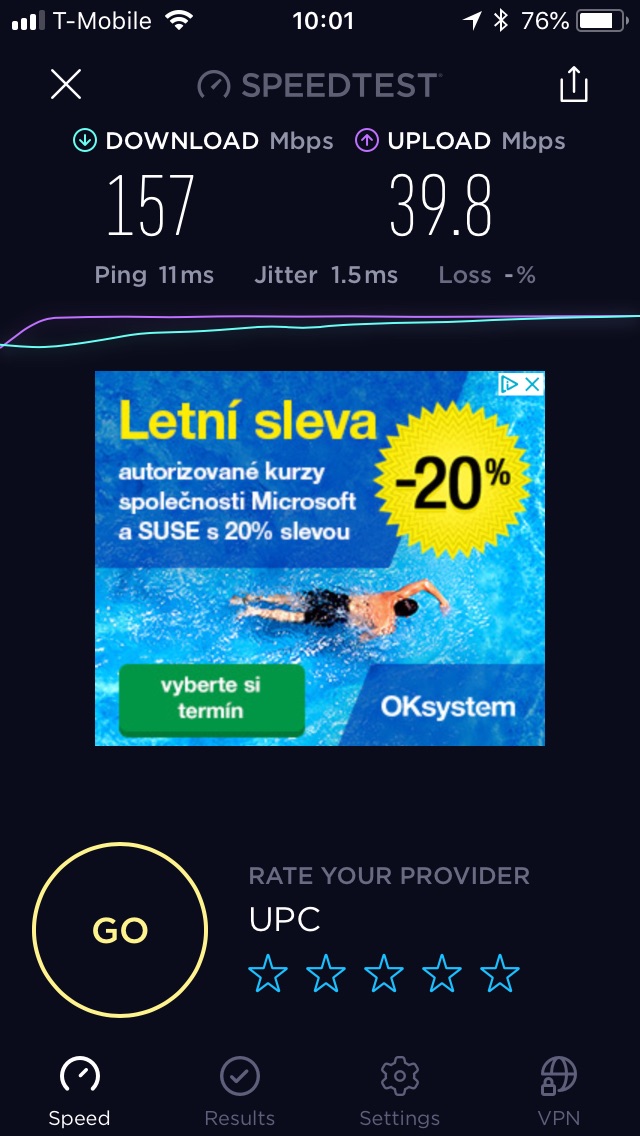 An interesting text recognition option may be that the User opens the Speedtest app, runs a test and uploads the screenshot, by attaching an image from the phone's photos. Because Speedtest has such a consistent UI and UX, it would be fairly trivial for Airbnb to read the data from a screenshot. (This 157/40 screenshot shows the fastest Wifi I've ever tested at Forrest, a lovely little vegan bistro in the Vinohrady neighborhood of Prague)

---
Strategic Partnership or Built Option
The most elegant solution would be to incorporate it into the Airbnb app. The Guest would receive an app notification (and/or an email) after checking in, deep-linking them into the app. Airbnb would have built their own testing tools or done a strategic partnership with Ookla, integrating a white-labeled or co-branded Speedtest into the app.
The user would confirm they are on the Host's network, perhaps matching the network name that the Host has inputted for their Listing. A simple "Start" button would run the Speedtest and collect the info. Easy!
I'd guess that Airbnb has discussed various rewards program models – verifying Wifi data would integrate into a rewards program nicely.
How To Use The Wifi Data
The immediate usage is to rate any one particular Listing once it has received a certain number of verifications. This might be in the form of a thermometer, an extra little badge, a stoplight model or a numerical rating. Airbnb has been using Verified Photos for years to give Guests a better sense of what they can expect. Extending this to Wifi and other amenities is a natural iteration.
Browsing Airbnb's listings, I might set a filter for Verified Wifi, which could limit search results or add a badge to listings that have been verified.
Let's aggregate that data further. Airbnb can build heatmaps, and overlay listings on top of it. Any traveler knows that Wifi tends to be better in certain areas, and that doesn't always correspond to population. In fact, a lower population density might have extremely high internet speeds because there is less data being pushed through a fat-enough pipe. Or a wealthier area might test faster because residents pay for faster connections. Or mixed-residential Listings might benefit from the infrastructure built for local businesses.


Airbnb can then, presumably, sell this aggregated data to any number of corporations, be they ISPs or real estate developers or even McDonalds. A Fast Company article from 2014 detailed how fast food chains "use data overlays which allow them to see auto traffic, consumer demographics, safety information, commercial mix, and other factors saves them significant money when deciding which properties to open up in."
Why I'm Still Skeptical
Do I think Airbnb is likely to do any of this? No.
Airbnb has shown a strong propensity to build revenue by focusing exclusively on Hosts. For instance, they have built tools for Hosts that can maximize rates. The ecosystem is clearly weighted towards Hosts (and Superhosts), with a painfully faint nod towards Superguests. Seriously, that vaporware screenshot below is all they have, along with this ridiculous thread where Superguests qualify by washing their dishes.


Airbnb has the opportunity to provide a far superior experience to those who travel on a frequent basis, often staying in one location for a week or more. With a pending IPO and awash in $4.4 billion in venture capital, it is remarkable that efforts to this effect are non-existent. I'm pessimistic, and very much hoping Airbnb proves me wrong. Brian Chesky, you can always reach out!
JULY 2020 UPDATE
Comcast has the box!   Check out this email I just got.  What I have called "Verified Wifi" is precisely what I recommended Airbnb implement in 2014.
Join the nationwide broadband performance test

We want to connect you to the things you love—at the Internet speeds you need. That's why we provide fast Internet and great in-home WiFi.

To ensure we're delivering the speeds we promised, we work with the Federal Communications Commission (FCC) every year. During the nationwide Measuring Broadband America program, the FCC collaborates with SamKnows to measure speed and other broadband performance characteristics in customers' homes.

We'd like to invite you to participate. If you're interested, learn more at https://www.measuringbroadbandamerica.com/volunteer-now?country=236&isp=9&product=5819.

| | |
| --- | --- |
| • | If you sign up and are selected, SamKnows will send you a device that easily connects to your home network. |

| | |
| --- | --- |
| • | Once the device is connected, it will measure your Internet performance automatically, and those results will be used by the FCC to create a public report. |

| | |
| --- | --- |
| • | You can review your Internet's performance online anytime while you're participating in the trial. |

Your privacy matters to us. Please know:

| | |
| --- | --- |
| • | Comcast has not provided your name or contact information to the FCC, SamKnows, or any other person in connection with this project. |

| | |
| --- | --- |
| • | Your participation is completely voluntary. |

| | |
| --- | --- |
| • | The FCC and SamKnows will also assure you that your personal information and activity on the Internet will be strictly protected and will not be shared or made available without your consent. |

Thank you for your consideration and for being an Xfinity customer.